The Swap Meet: Wanted

This particular page has been expanded. Due to the overwhelming response and popularity of the Swap Meet Page, we have set up a page for those items that you might be looking for in addition to another page for items you're trying to sell.

Obviously, you have found the Wanted to Buy Page. If you have one of the items or that particular vehicle that an individual on this page is looking for...e-mail me

Currently e-mail addresses ARE NOT in the ads on this page. However, I have added security measures that will keep spammers from contacting you through this site. If you would like to have your address posted along with your ad, e-mail me with your ad and indicate that you wish to include your address.

Each "message" will have a code number...include that so that I can make sure your message is delivered to the right person.


Wanted to Buy...

Wanted: Ford Pickup year 1940-41, complete, unrestored. Sweden. CODE #SW4041

I'm searching for a 1949 half ton project in the $500-$1000 range. Washington State area. CODE #PROJ49

Tailgate , running boards and brackets for 56 F100, also choped windshield. Colorado area. CODE #PTS56

Looking for a 56' F-100 with a 302 or 351. Surface rust OK, NO Bondo! If possible, I would love it modified into a supercab.OTHER THAN BODY THE REST DOESN'T HAVE TO BE IN THAT GREAT OF CONDITION. British Columbia, Canada. CODE#SUPER56

Looking for a '49-'52 Ford F-100 Pickup radiator new or used in good condition in the New York area. CODE#RAD4952

Looking for a '56 for or under $10,000 in or near Texas. Must be in excellent condition. Will be driven daily. I'm 16 and it will be my first car. biscuit15@hotmail.com (Here's a young man with taste...I'm sure that there's a beautiful '56 out there with his name on it. Jack)

Looking for a 1948-51 ford f1 V8 flathead, not restored for a 14 year old in the Washington area. Offering $250. CODE#BARGAINHUNTER

I want to buy the hood moldings (upper and lower of the three),I have the middle "V" end molding and the middle that has "F1" stamped on it for a 1951 Ford pick up. Also, I would be interested in the rear doors for a 1951 Ford panel truck. Virginia Area. CODE#51MOLD

Looking for a 239 ci flathead V8 block, fenders and running boards for 1950 f-100 Michigan area. CODE#239FLAT

Looking for a 1953 F-100 Pickup Completed/Restored must have flathead willing to pay reasonable/top dollar.MN CODE #WCR53

Looking for running boards for my '55 F100. In the Virginia area.

I am looking for a 1950's model F100 ford pick-up without an engine. It does not have to be in great condition but at least reasonably restorable. In the Texas area.

Terry is looking for a 57 - 60 front axle hub to hub (Indiana) Code#Ruff5760

I am searching for a tailgate and rear bumper to fit a 1959 Ford F-100 styleside pickup. CODE #TG100

I am interested in engine parts for a 1952 F-1. I own a Red 1952 Ford F-1 with an original 239 Flat Head V-8. I am interested in finding spare engine parts. The truck is all factory stock parts. CODE# WJGOR

Looking for a 1964-'66 Ford Twin-I-Beam, short bed pick-up with standard transmission. code#6466

Make and Model wanted1948 thru 1950 ford F-1 pickups Year 1948 to 1950 General Condition wanted / any (Code #4850f1)

57-60 (prefer 59-60) Ford F-100 - Has to be Styleside Short Box - Looking at converting to 4x4 (70's drivetrain) so one that is already converted would be great- not interested in an original 4x4. -(not asking for much am I)? Looking at all price ranges. (code#buy57)


From: Roger Lovering Date: Wed Mar 4 56-f-100 My father is trying to buy an originally equipped 56 large window pick-up. I'm trying to help him find one on the net. May I ask for your assistance? Roger code# bw56#1


WANTED 1953-56 F-100 Milk Truck in restorable or restored condition Ray C. 3/8/98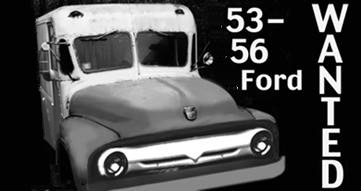 Looking for a truck radio for 1951 ford not working just to be put in my old truck for looks if anyone has one for sale please email me (code #rad1) Thanks Kevin


Wanted: a 1967-69 ford ranger/custom short bed in good running condition with automatic transmission. Any engine size acceptable. California CODE #RANGE679

Back