When starting a project truck that includes a variety of body modifications like a top chop, shaved door handles, suicide doors, channeling, sectioning, peaking or any other type of customizing the cardinal rule is simple: does a particular modification work with the overall theme of the vehicle? If it does then measure 800 times, cut once, tack weld, measure another 800 times, then finish weld. Triple the number of measurements if you're doing something for the first time.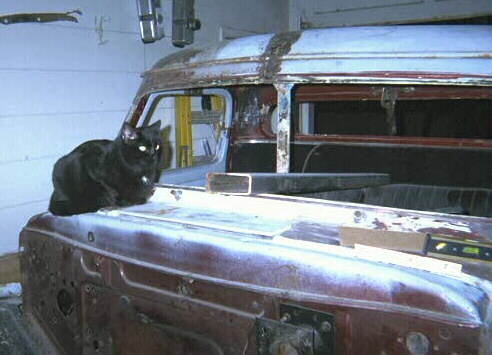 Having a supervisor helps...

When this photo was taken, "Pepper" was watching with great intrest as I used a Makita grinder on a weld. The noise didn't seem to have much of an effect on him, and I received a suggestion that I smooth out the cowl vent...He spends a considerable amount of time with me in the garage working on the truck...

Follow the links below to see (finally) pictures of the modifications in action...There are more on the way...!!!

Custom Mod Directory

Sneak Preview List:
Top Chop...
Smooth Firewall...
Smooth Dash (Remove hump, fill in ashtray & glovebox)...
Widen Rear Fenders...
Tilt Front End...
Late Model Door Handles...
'77 Camaro IFS Graft...
4-Bar Rear Suspension...
4 Corner Airbag Suspension...
Sign the Guestbook
View the Guestbook

Please take a moment and vote here for this site..I'm working real hard to build and promote this non-commercial site and the hobby that we all love and your vote is the only payment that I'll get.

Thanks!!!

It's NEW...Check out the Swap Meet in the site guide below!