Jack's Truck Chat

Jack's F-100 Truck Stop has chosen ICQ as the best method of communication between its members. ICQ provides us with a means to chat whenever we like to share ideas, discuss similar interests or anything else. We encourage all members to get ICQ and join our ICQ Public Chat Room. Plese keep the chatting clean and focused on the building and customizing of the '48-'56 Ford Trucks.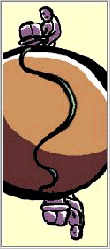 Chat Room's Information:
NAME:
Jack's Truck Chat
CATEGORY:
Automotive
DESCRIPTION:
This Chatroom is for the exchange of information about building the '48-'56 Ford Trucks.
ICQ#:
12982154
ChatMaster's Information:
NICK NAME:
Truckinrod
REAL NAME:
Jack Sturgis
ICQ#:
11632940
E-MAIL:
ChatMaster's E-Mail
ASSOCIATED LIST:
Web-page Visitor - Communicate with Jack Sturgis/Jack's F-100 Truck Chat
by using this ICQ Communication Panel
You can ICQ-Page the owner of this web page as well as other users or you can EmailExpress him right from here with no additional software. Your message will be instantly delivered. If the user is online, the message will popup on his screen if he is offline it will be stored and forwarded to him as soon as he connects to the internet. Installing the ICQ client will enable you to know if your peers are online and communicate directly with them, join chat rooms and receive ICQ paging and EmailExpress directly to your screen.
This is a VERY cool communication "device". Out of curiousity, necessity or something else, we have all entered the internet looking for knowledge, friendship..entertainment. The ability to communicate effectively and CHEAPLY is available to all of us. I have had personal experience with ICQ as a communications medium and I, based on that experience, have chosen to add the ICQ chatroom to our clubhouse. Try it and send me an e-mail with your comments and suggestions. Jack