I thought that I'd set up a few examples of my recent artwork so that you can enjoy them too.
Click HERE for the latest images!!! It's a snowmobile hood...
Just click on the image and you'll get a bigger version. To download it, just click on the image with the right mouse button, select "save image as" and put it in a folder that you choose as the destination....
This is a Baby Nursery with a Peter Rabbit Theme....
Then we have this "Bass Boat". When I went to the customer's home, I was expecting something a little bit bigger.....Joke's on ME!

Another Baby Nursery with a Noah's Ark Theme....
I did this business's logo on the lobby wall....It's about 5 feet tall.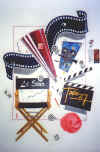 I love kids with money....The owner of this snowboard wanted something "Wild". Told me to surprise him...Heh, heh, heh...
This was painted on a pickup truck's tailgate. The customer's wife had called him "Toad" since they first started dating...Sasquatch would be more in keeping....He's a BIG man!

Just a few cartoons that gave me something to do when I was stressed...The second image is a detail shot of the first, which I like to call "Demon Buns of Steel".
This is the piece that I'm most proud of...I painted it on that lady's pick-up bed cover and this picture was taken after she was finished squealing with glee....Odd sound.